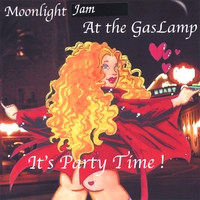 Moonlight Jam
"At the Gaslamp"
© 2007 Valery Saifudinov & Vladimir Yarovinsky (805238817624)

YOU CAN LISTEN & BUY IT AT CDBABY.COM!


Party Pop

tracks
1 Down to The GasLamp
2 Little Taco Shop in Encinitas
3 Coyote Bar And Grill
4 Party in OB (Ocean Beach)

5 LaJolla Manequin

6 Angel from Del Mar
7 Fashion Valley Molly
8 Coronado (Dreamin' of You)
9 House in Oceanside
10 Everybody Wants to Get Some


notes

When you wanna have a good time and party,
put on a Moonlight Jam CD "At the GasLamp"
This CD is dedicated to the people and places
of San Diego, but could be enjoyed by
everybody around the world.
We had a great time recording it with very
talented musicians from San Diego, LA, San Francisco
and some special guests from other countries.
Recorded and mixed at Flight 19 Studio by Valery
and mastered at Capitol Mastering by Robert Vosgien.
We have a lot of fun doing it
and we hope you'll have fun listening.